Complete Nephrology Practice Solution to Optimize Revenues
Manage detailed health information of your ESRD and
non-ESRD patients with Nephrolytx
Complete Nephrology Practice Solution to Optimize Revenues
Manage detailed health information of your ESRD and non-ESRD patients with Nephrolytx
Schedule Demo
Maximize Revenue with Nephrology Practice Solution
Nephrolytx empowers providers offering nephrology services to both ESRD and non-ESRD patients. In addition, this tool is specifically designed to cater patients suffering from renal diseases and helps providers streamline practice procedures. Also, it provides comprehensive information based on charts and analytics to make better decisions about patient health. Further, Nephrolytx shows all the metrics related to your practice revenue and provides insightful information to providers. The tool is designed according to the needs of providers and acts as a complete physician solution.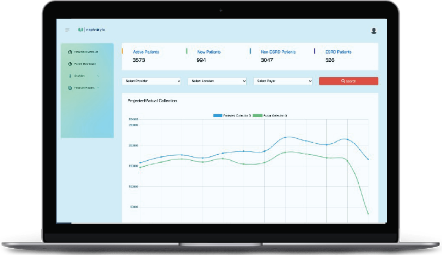 Streamline Nephrology Practice with our Specialty Focused Software
Nephrolytx is designed according to the requirements of your nephrology practice and it provides advanced features for providers.
Interactive dashboards, details of both active and new patients, and detailed financial reporting for nephrology practice management.
Comprehensive Information
Each and every aspect of your nephrology practice can be easily managed with the help of Nephrolytx platform with maximum ease.
Comparison and Forecasting
The forecasting and comparisons of revenues based on the details of past 12 months help providers make wise business decisions.
Having detailed information on collections, you can implement effective strategies to enhance your practice performance significantly.
All-in-one Nephrology Practice Solution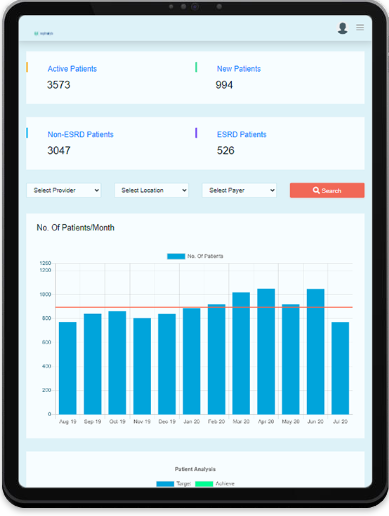 It provides the details of projected and actual collection, target and achievement, account receivables, and revenue forecast based on patient volume.
This section shows the number of patients, patient analysis based on targets, and payments from the payers.
This section offers complete details on payments, aging summary, patient list, analysis by location, analysis by provider, and CPT wise analysis.
It shows charges and collections summary, reconciliations, patient deductible, performance report, analysis on procedure, productivity, and performance.
Improve Performance of Your Nephrology Practice
Our specialty-focused solution provides nephrology practice analytics to physicians. Similarly, it provides ways of optimizing the revenue cycle process. The insights on revenue forecasting enable nephrology practice to make intelligent decisions. Moreover, it helps to improve patient health and optimize collections simultaneously. Nephrolytx gives actionable insights to boost practice performance and improve profitability. Schedule a demo with our experts to learn more about our nephrology practice solution and how we empower your practice.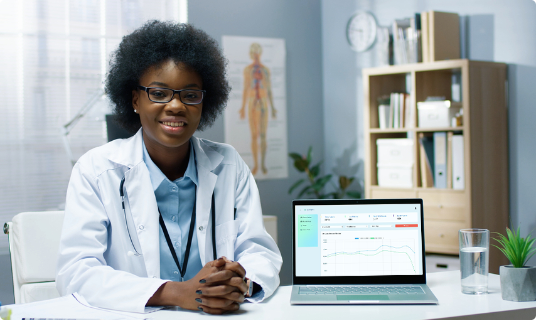 Assisting Healthcare Organizations to Flourish
Satisfied Providers are our Testaments

Practice Manager
Wilson Creek Internal Medicine
As a practice manager, I was looking to streamline the medical billing process. I tried other companies, but they were all complicated and took too much of my time. Fortunately, I found Transcure. They excel in tailoring solutions to fit my requirements.

Office Manager
Idaho Kidney & Hypertension Institute
We are a large practice with 15 providers. Transcure has been working with us for the last 5 years. This billing company has been a great asset to us. I work with Transcure and they provide everything I ask for. The team is friendly and very pleasant to work with.

Practice Manager
Harding Memorial Healthcare
We've been working with Transcure for 8 years now and I just wanted to say how happy we are with their services. They always get back to us quickly and are very easy to work with. They get my bills paid in record time and help us to generate millions in revenue.