Let Our Chiropractic Billing Services Aid Your Specialty
Are you looking for medical billing for chiropractors? Allow our best Chiropractic Billing Services to support your renowned Medical care services. Our expert billing and coding team knows how to handle your chiropractic claims and processes them correctly. Transcure is tailored to meet the needs of chiropractors and other specialty-specific medical professionals.
Providing complete Chiropractic Medical Billing Services for all sizes of chiropractic offices
Our Experienced chiropractic billing services will help you ensure that claims are submitted correctly and promptly. Leading to a higher rate of reimbursement and increased revenue for the practice while cutting the cost of; payroll taxes, benefits, or workers' compensations.
Transcure clients report a 20–30% improvement in collections as our Specialized chiropractic billing software and an experienced billing team will help you reduce the number of errors made in; claims submissions, minimizing denied claims and increasing the likelihood of reimbursement.
More Time for Patient Care
You'll have greater peace of mind and time to focus on what you love—caring for your patients. Additionally, you won't be weighed down by administrative hassles.
Leading Chiropractic Medical Billing Services
Our leading chiropractic insurance billing service includes handling claims for chiropractic manipulative treatment (CMT) and other specialized services while communicating with insurance companies to ensure the highest reimbursement rate for your chiropractic claims. Our billing team will help you improve the overall financial health of your practice by providing accurate and up-to-date financial reports and insights about their billing trends. Transcure Medical Billing is the solution you need!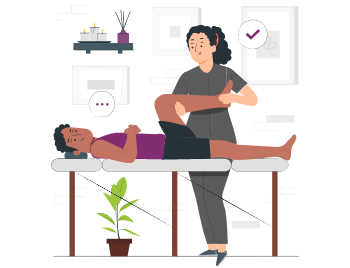 Improve Your Revenue With Specialized Chiropractic Medical Billing
Our Chiropractic insurance billing service stays up-to-date with the latest regulations and requirements for chiropractic claims, which helps ensure that the practice remains compliant with insurance companies.
Our AAPC-certified coders will handle the coding for you. They are familiar with the relevant medical codes for the field of chiropractic.
Chiropractic Sessions' Billing
By outsourcing billing to a chiropractic medical billing company, you can avoid the costly expenses of hiring a full-time billing team. We keep track of all your chiropractic sessions and bill accordingly. We provide a full report outlining the patient's diagnosis and case history.
Ensured Patient Well-Being
Our chiropractic medical billing company can act as a liaison between the practice and insurance companies, helping to resolve any disputes or issues and providing remarkable efficiency to your practice.
Assisting Healthcare Organizations to Flourish
Satisfied Providers are our Testaments

Practice Manager
Wilson Creek Internal Medicine
As a practice manager, I was looking to streamline the medical billing process. I tried other companies, but they were all complicated and took too much of my time. Fortunately, I found Transcure. They excel in tailoring solutions to fit my requirements.

Office Manager
Idaho Kidney & Hypertension Institute
We are a large practice with 15 providers. Transcure has been working with us for the last 5 years. This billing company has been a great asset to us. I work with Transcure and they provide everything I ask for. The team is friendly and very pleasant to work with.

Practice Manager
Harding Memorial Healthcare
We've been working with Transcure for 8 years now and I just wanted to say how happy we are with their services. They always get back to us quickly and are very easy to work with. They get my bills paid in record time and help us to generate millions in revenue.
Get the latest healthcare industry insights to learn more about making your practice more profitable.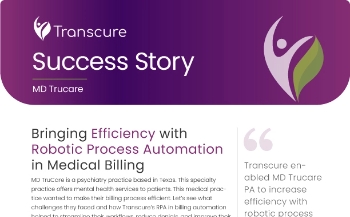 Learn how MD TruCare increased revenue, enhanced operational efficiency, and reduced costs.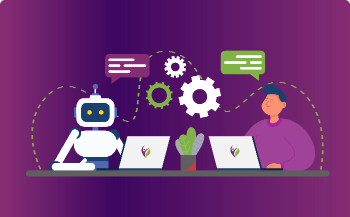 Get to know how Robotic Process Automation is changing the practice verticals.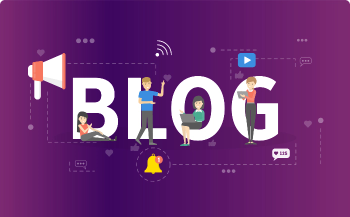 Explore the latest healthcare industry insights based on analysis and opinions of experts.