Efficient Medical Billing with Robotic Process Automation
We don't just help them get there faster, we also give them a better return on their investment by helping them reduce staffing costs and increase accuracy.
Our Robotically driven systems are tested against industry standards
You can be confident that your company is getting the most out of its investment in automation.
Control Rising Billing Expenditures
RPA saves several costs and all the operations are overlooked by a single intelligent bot.
All your staffing problems are taken care of by RPA bots.
Scattered big data is the biggest challenge which can be dealt effectively with RPA.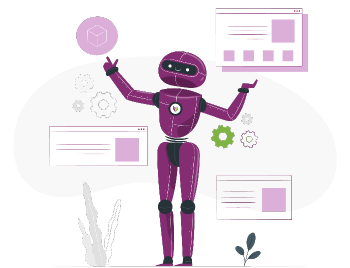 With new payment methods, RPA's accuracy can get you all the incentives and bonuses.
Avoid Lengthy Submissions
Robotic Process Automation process your claims faster than ever before.
Our RPA bots are well aware of all compliance and coding regulations
Full Suite of RCM Solutions
Improve efficiency, save time, and increase patient experience with end-to-end revenue cycle management services.

Reduce claim denials to fuel your reimbursements and get paid on time to streamline revenue cycle.

Optimize revenue and increase practice productivity while decreasing administrative workloads.

Get affiliated with maximum insurance payers to increase patient engagement and grow your network.

We simplify front office management and help your office managers to streamline practice workflows successfully.
We strictly adhere to compliance and state regulations and our certifications exhibit that well.