Overview
Have you ever felt stuck in the loop of a denied claim? It is not just you; practitioners have been struggling for fair compensation for decades. It might happen due to a need for more guidance or clear direction regarding claim filling and submission. The professionally designed CMS-1500 form can help you overcome denied claims. This perfectly designed claim form stepped into the medical billing industry in November 2005, initially approved by the National Uniform Claim Committee NUCC. 
This billing claim form ensures that healthcare practitioners receive fair compensation for their hard work. It is considered the most responsive paper claim, but here is a twist: to get maximum benefit from its effectiveness, it's essential to fill it mindfully with complete understanding.
This blog is certainly written for individuals eagerly seeking a detailed understanding of the CMS 1500 Form and its accurate filling procedures. Let's get a deep understanding by monitoring each field of this incredible yet most responsive claim-filling form:
What is the CMS-1500 Form?
The CMS-1500 form, or the HCFA 1500 claim form, is a professional document for the submission of health insurance claims approved by NCCU. Healthcare providers frequently use it in order to submit claims for professional services. The form provides a comprehensive record of the medical services provided by the physician, including information such as diagnosis, treatment, and prescribed medications.
A physician who has a private practice but provides services at an institutional facility, such as a hospital or outpatient facility, uses the CMS-1500 form for billing for their services, and it includes all the relevant details of the facility where the services were performed.
Overall, the CMS-1500 form is a crucial document that ensures timely and accurate payment for healthcare services provided to patients by physicians and other healthcare professionals.
History of CMS 1500 Form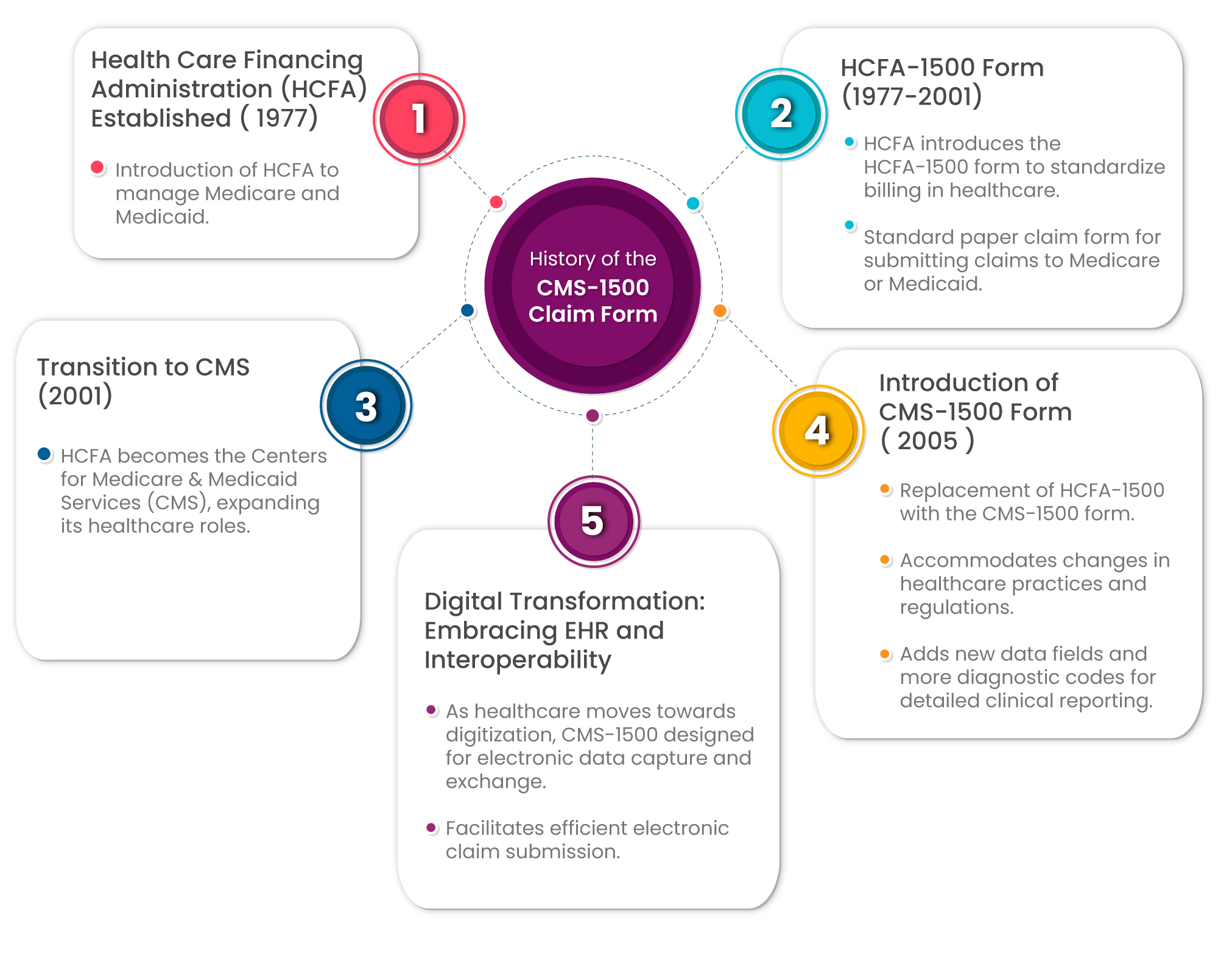 The CMS-1500 Claim Form has a rich history, originating in 1977 when the Healthcare Financing Administration (HCFA) was established to oversee Medicare and Medicaid. With the introduction of the HCFA-1500 form, healthcare billing underwent a significant standardization process, streamlining the submission of claims for services provided to Medicare or Medicaid patients over nearly three decades.
In 2001, the HCFA transitioned into the Centers for Medicare & Medicaid Services (CMS), broadening its healthcare responsibilities. However, it was in 2005 that a pivotal change occurred with the replacement of the old form by the more advanced CMS-1500. This update aimed to align with evolving healthcare practices and regulations, introducing additional data fields and expanding diagnostic codes for more comprehensive clinical reporting.
As the healthcare landscape shifted towards digitization, embracing electronic health records (EHR) and interoperability, the CMS-1500 form played a crucial role in this transformation. Designed to facilitate efficient claim submission, the form became adept at electronic data capture and exchange. This marked a significant leap forward in the digital evolution of healthcare, allowing for seamless communication and data consistency.
The CMS-1500 form, with its enhanced features and adaptability to electronic processes, has played a vital role in ensuring accurate and streamlined claim submissions. In the era of digitized healthcare, it continues to serve as a cornerstone for providers, promoting efficiency in processing claims and facilitating seamless interactions with insurance coverage systems.
Main Components CMS-1500 Claim Form
There are 33 fields on the CMS-1500 form. These fields collectively provide a comprehensive overview of the patient, the services rendered, and the billing details. Filling out the form for CMS 1500 accurately is crucial for efficient insurance claim submission and processing.
Here is a table summarizing fields in CMS 1500 claim form :
| No of Fields | Field Name | Description |
| --- | --- | --- |
| 1 | Insurance Type | Specifies the type of insurance, including Medicare, Medicaid, or private insurance. |
| 2 | Patient's Name | Patient's full legal name. |
| 3 | Patient's Birth Sex | Patient's date of birth and gender details. |
| 4 | Insured's Name | Name of the person holding the insurance if it is not the patient. |
| 5 | Patient's Address | Patient's home address, city, state, zip code, and telephone number. |
| 6 | Patient Relationship to Insured | Specifies the patient's relationship to the insured, such as self, spouse, or child. |
| 7 | Insured's Address | The insured person's address differs from the patient's. |
| 8 | Reserved for NUCC Use | Reserved for future use by the National Uniform Claim Committee (NUCC). |
| 9 | Other Insured's Name | Name of any other person holding insurance that covers the patient. |
| 10 | Patient's Condition | Information about the medical condition is related to employment, auto accident, or other accident. |
| 11 | Insured's Policy Group or FECA Number | Policy or group number of the insured's health plan. |
| 12 | Patient's or Authorized Person's Signature | Signature of the patient or authorized person and date granting permission to release medical information necessary to process the claim. |
| 13 | Insured's or Authorized Person's Signature | Signature of the insured or authorized person, if different from the patient, giving permission to release payment to the provider. |
| 14 | Date of Current Illness, Injury, or Pregnancy | The first date of the illness, injury, or pregnancy that necessitates the medical services billed. |
| 15 | Other Date | Other relevant dates related to the patient's condition or treatment. |
| 16 | Dates Patient Unable to Work in Current Occupation | Specific dates the patient was unable to work due to the condition. |
| 17 | Name of Referring Provider or Other Source | The name of the referring or ordering physician, if applicable. |
| 18 | Hospitalization Dates Related to Current Services | If the patient was hospitalized, the dates of hospitalization. |
| 19 | Reserved for Local Use | Additional information as required by some insurers. |
| 20 | Outside Lab | If lab work was outsourced and the charges associated with it. |
| 21 | Diagnosis or Nature of Illness or Injury | The diagnosis codes related to the patient's condition |
| 22 | Medicaid Resubmission Code/Original Reference Number | If applicable, the code and original reference number for resubmitted claims. |
| 23 | Prior Authorization Number | If required, the number of the prior authorization. |
| 24 | Details of the Services Provided | Each line provides details on a single service provided, including date, place, procedure code, diagnosis code, charges, and more. |
| 25 | Federal Tax ID Number | The provider's Federal Tax ID number. |
| 26 | Patient's Account No | Patient's account number for the provider's records. |
| 27 | Accept Assignment | Whether the provider accepts the assignment of benefits. |
| 28 | Total Charges | Total of all charges from section 24. |
| 29 | Amount Paid | Amount already paid, if any. |
| 30 | Reserved for NUCC Use | Reserved for future use by the National Uniform Claim Committee (NUCC). |
| 31 | Signature of Physician or Supplier | Signature of the physician or supplier, including credentials and date. |
| 32 | Service Facility Location Information | The location where services were provided. |
| 33 | Billing Provider Info & Ph.# | Information about the provider submitting the claim. |
| 33a | Billing Provider NPI (National Provider Identifier) | The NPI of the provider submitting the claim. |
Source: Centers for Medicare & Medicaid Services (CMS)
Who Can Use CMS 1500 Form For Claim Submission?
The CMS-1500 Claim Form is primarily used by healthcare professionals and providers to submit claims for reimbursement for services rendered to patients. Here's a more specific breakdown of who typically uses the CMS-1500 form:
Physicians and Practitioners: Doctors, nurse practitioners, physician assistants, and other healthcare practitioners who provide medical services can use the CMS-1500 form to bill for their services.
Hospitals and Outpatient Facilities: Hospitals and outpatient facilities use the CMS-1500 form to bill for services such as outpatient surgeries, diagnostic tests, and other outpatient procedures.
Clinics and Group Practices: Medical clinics, group practices, and healthcare organizations use the CMS-1500 form to submit claims for various medical services provided to patients.
Durable Medical Equipment (DME) Suppliers: Suppliers of durable medical equipment, such as wheelchairs, crutches, and oxygen equipment, use the CMS-1500 form to request reimbursement for equipment provided to patients.
Home Health Agencies: Home health agencies use the CMS-1500 form to bill for home health services provided to eligible patients.
Other Healthcare Providers: Various other healthcare providers, including therapists, laboratories, and suppliers of medical services, may use the CMS-1500 form for billing purposes.
Need Help Submitting Your Insurance Claims Accurately? Let Us Assist You!
How Can Transcure Help In Accurate Claim Submission?
Your financial cycle gets a boost if your claim submission process, which is considered the most critical step, is done accurately. When you are leading the journey of efficient claim submission, Transcure employs a systematic process that ensures accuracy and effectiveness at every step.
Let's take a friendly walk through our streamlined approach:
Step 1: Welcoming Patients with Care
Transcure kick start this systematic claim process by gathering patient information as needed. This isn't just about paperwork; it's about making sure that we know patients details, like confirming their insurance coverage, and understanding the primary reason for their visit.
Step 2: Decoding Healthcare Jargon
Healthcare providers simplify medical procedures and provide diagnoses. Using coding systems like ICD-10 for diagnoses and CPT/HCPCS for procedures, we translate the details of the patient's journey into a language that makes sense for an efficient billing process.
Step 3: Crafting the CMS-1500 Masterpiece
Armed with the patient's story, we accurately fill out the CMS-1500 form. This isn't just paperwork; it's a canvas where we capture patient demographics, provider details, diagnosis specifics, and the financial nitty-gritty. It's the art of translating healthcare services into a language insurers understand.
Step 4: A Clearinghouse Adventure
Our completed efficient claim takes a digital journey to a clearinghouse. This isn't just a pitstop; it's a thorough check for any bumps in the road. The third-party clearinghouse is our partner in ensuring the claim is scrubbed clean and ready for its next destination – the insurance company.
Step 5: The Insurance Chapter
The insurance company takes center stage in the story. It reviews our claim, making sure every detail is in place. This isn't just a review; it's claim adjudication. If the claim gets the green light, it's payday – the insurance company issues payment based on the patient's coverage and our agreed rates. And if there's a twist in the plot with denial, fear not, an explanation of benefits (EOB) arrives, unraveling its reasons.
Step 6: The Final Act – Patient Billing
Any remaining balances, whether deductibles, co-insurance, or charges for non-covered services, take center stage in our final act. Transcure sends the bill directly to the patient, ensuring transparency and closing the financial loop.
With this friendly journey, we not only optimize the financial health of healthcare practices but also ensure that the entire process is as friendly as a walk in the park for our patients.
Conclusion
It is noteworthy that healthcare professionals and entities that provide covered services to patients and are seeking reimbursement from insurance companies, including Medicare, can utilize the CMS-1500 Claim Form. This form provides a standardized and efficient way to submit claims, making the process much smoother for all parties involved.
FAQs About CMS 1500 Form Answered By Trancure Team
Does Medicare accept the CMS 1500 claim form?
Yes, Medicare does accept the CMS-1500 claim form. Healthcare professionals and suppliers use this form to request reimbursement for services provided to Medicare beneficiaries. The form contains essential information such as patient details, healthcare provider information, and specifics about the services rendered. Medicare, as a major healthcare payer, recognizes and processes claims submitted using the CMS-1500 form, making it a crucial tool in the billing and reimbursement process for Medicare-covered services.
When to use CMS 1500?
The CMS-1500 claim form is used when billing for fee-for-service Medicare. Healthcare providers and suppliers use this form to submit claims for reimbursement. Many healthcare professionals use this effective paper claim for seamless claim submission.
When was the CMS 1500 claim form first used?
The CMS-1500 claim form was first used in 2005. It replaced the HCFA-1500 form and was introduced to accommodate changes in healthcare practices and regulations. The updated form includes new data fields and diagnostic codes for more detailed clinical reporting.