Robotic process automation (RPA) is sweeping the healthcare industry. It allows the industry to effortlessly automate workflows and processes that were previously completed by high-priced employees. It can dramatically reduce your labor cost, conversion time and increase your ROI. Robotic Process Automation solutions are designed to integrate seamlessly with your EMR, EHR, and current billing system.

Radically transforming revenue cycle management (RPA) is helping many healthcare organizations get ahead of their competition. This framework collects, analyzes, integrates, and directs the thinking of RCM professionals across an organization to improve revenue cycle efficiency. Additionally, it helps achieve lucrative outcomes for both providers and payers. RPA replaces traditional human interactions such as call center workers, legal advisors, and accounting clerks.
Why is RPA suitable for your Revenue Cycle Management?
Robotic Process Automation (RPA) is a type of technology that offers businesses the ability to automate their back-office processes. This in turn can lead to cost savings for your practice and ultimately improve your billing process. RPA can be used to automate anything from simple data entry to complex decision-making processes. It's an ideal solution for RCM because it can take on repetitive tasks that require little or no oversight from an operator.

RPA works by gathering information about a process step, then creating an algorithm based on this data. This algorithm will then interact with other algorithms to carry out the action that needs to be performed. The result is an automated workflow that performs tasks as efficiently and effectively as a human worker would have done them but at a faster pace. The concept behind RPA is simple.  RPA automates repetitive tasks within the RCM system to save money while increasing productivity. The benefits are clear; reduced cost and improved efficiency.
Applications of RPA in Revenue Cycle Management
In healthcare, there are many processes involved in the patient management system. It is quite challenging for practices to manage all processes manually. In addition, the workload increases with each passing day. Thus, implementing RPA in healthcare will enable organizations to manage more processes more efficiently and achieve better results within a shorter time frame. Robotic process automation is a technology that enables businesses to automate repetitive processes by leveraging software robots to carry out tasks.

RPA has become a new trend in the world of business. It helps businesses save time and money, while also improving customer experience and productivity.

The applications of robotic process automation in revenue cycle management are numerous and varied. Some of them are;
Automating customer interactions
Automating insurance claims processing
Administrative Management
Clinical Documentation
Automated Compliance Management
Coding and Backend Billing
Remittance Posting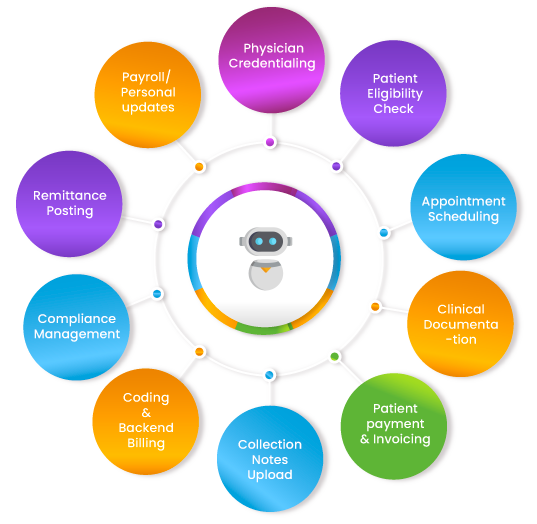 Where to Implement RPA In Your RCM Strategy?
There are many applications of Robotic Process Automation (RPA) in revenue cycle management. The most common ones are:
1. Revenue Cycle Automation:
This is a system that automates the steps from coding to payment, fulfillment, and customer service.
2. Revenue Cycle Management:
This is a system that manages all the processes from feeding off structured data to implementing rules and event-driven tasks.
3. Customer Service:
This is a system that provides customer support to customers by answering queries, and scheduling appointments.
RPA current trends & forecast in healthcare
Robotic process automation is revolutionizing the healthcare industry. In a report by Forbes RPA is expected to become the most powerful technology in the next five years.

RPA has the potential to improve revenue cycle management in healthcare by helping organizations automate routine tasks, thereby freeing up workers to focus on higher-value activities. According to a report by verified market research RPA's market size in healthcare will increase by 6% in 2028 from $1.13 billion to $1.83 billion.

RPA is not just about automating manual tasks; it also helps to improve patient care, increase employee productivity and reduce errors.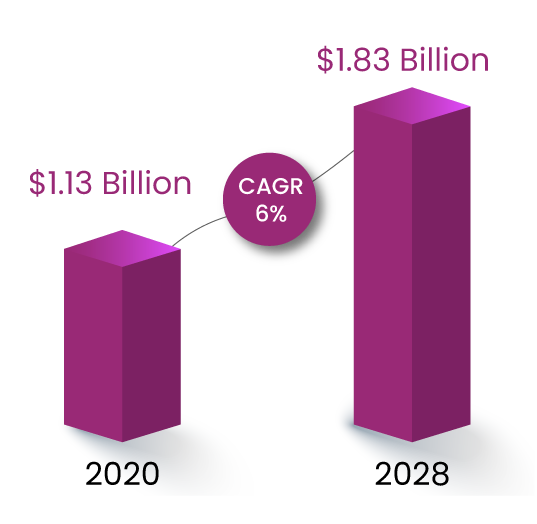 Accelerate RCM on your RPA journey
To get started with RPA, you need to first decide which type of robot will work best for your business. There are main types of robots:
RPA Ingenious bots: AI-powered bots that have been trained on a specific set of rules and can be used to perform repetitive tasks.
Pre-Programming bots: Pre-programming bots help in managing RCM by deducting any errors like scrubbers. They also alert about coding compliance errors.
Workflow bots: Bots that are designed to automate a variety of different processes with no human interaction required.
So far we have seen the rise of RPA in healthcare companies like Epic Systems and Cerner. Recent news by Becker Healthcare says that hospitals with installed Epic EHRs will get grants.
Robotic process automation is already being used by many healthcare organizations around the world to improve their revenue cycle management. If you are still struggling with your revenue cycle management, this is your call to shift it to RPA with expert RPA providers.